Dr. Young and Dr. Saperstein,
Patient 6 weeks after Anterior approach Total Hip Replacement
dancing at the Fireman's Ball in Boca Woods Country Club.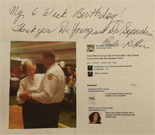 ---
---

Dear Dr. Young,
"... The Miracle Worker... . You, are my "miracle worker".
With the exemplary hip replacement surgery you performed, my life is a hundred percent better then before...
including golf, dancing, excercising, walking and traveling are back in my life. I call it a miracle !"

- Henry Y., Boca Raton, Florida
---
Dear Dr. Young,
I just wanted to thank you for the wonderful job you did with my hip replacement. Prior to my hip replacement I had severe pain when I walked, and when I attempted to play golf. Since my hip replacement
I can now walk and play golf without pain. I would also like to thank you for the after care I received and your concern for a speedy recovery.
- Carlo A., Boca Raton, Florida
---
Dear Dr. Young,
I just wanted to tell you how great you and your office staff are. I really appreciate all you have done for me.
I can't say enough nice things about your staff! As you know, the surgery on both my knees went well. If you need someone to speak to a reluctant patient, I'd be more than happy to do so. Again, I am grateful to you for making me feel like my old self and not a constant kvetch.
- Barbara K., Delray Beach, Florida
---
"Thanks, Dr. Saperstein, for fixing my ACL.  My knee feels as good as new and I'm back playing soccer
3 times a week!"
- Paolo C., Ft. Lauderdale, Florida
---
Dear Dr. Bergman,
The boys at the club weren't as happy as I was that you fixed my rotator cuff tear.  Now I'm back serving aces.
- Al B., Delray Beach, Florida
---
Dear Dr. Saperstein,
I am so glad I flew down to Florida to have to have you fix my rotator cuff.  The result has been great. 
I don't have any pain and I've been able to work out again.
- Andrea S., White Plains, New York
---
"Dr. Saperstein you were right.  I was so afraid to have surgery, but you and your staff are so caring and nice. You all made me feel better about it.  Now that my pain is all gone, I know it was the best decision for me."

- Gerri H., Boca Raton, Florida
---
"Before I had my knee surgery with Dr. Bergman, it was difficult to walk down the stairs. Now it's much easier, and every day it feels better."

- Todd C., Boca Raton, Florida
---
"I suffered from posttraumatic arthritis that began over 30 years ago with an injury while playing college softball. Through the years the pain got worse to the point where I couldn't stand for long periods of time.
X-rays of my knees revealed that most of the cartilage had worn away, leaving bone grinding against bone. Dr. Young gave me a knee replacement and I was up and walking the day after surgery. Before the operation
I could only bend my knee slightly – now I can bend it much more."

- Jeffrey W., West Palm Beach, Florida