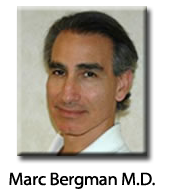 A graduate of the Mount Sinai School of Medicine in New York City,
Dr. Bergman did a combined general surgery/orthopaedic surgery residency at King's County Hospital Center in Brooklyn, New York. He later joined the staff of Downstate as assistant professor of Orthopedic Surgery to become the Director of Orthopedic Trauma at King's County Hospital, one of the busiest trauma centers on the east coast.
In 1991 Dr. Bergman relocated with his family to the Boca Raton area.
He has performed numerous successful joint replacements and his practice has evolved into a large sports medicine practice with expertise in arthroscopic shoulder surgery. He is one of the first surgeons in this area to perform all arthroscopic repair of shoulder problems. He has worked with high school and college athletes as well as numerous middle and senior aged athletes who continue to enjoy their favorite sports.